Royal baby 2019: the GQ birthing guide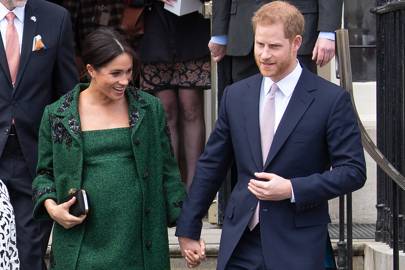 With Harry and Meghan's royal arrival due any day, here is the GQ guide to being the perfect birth partner
If you've so much as glanced at a newspaper you'll know that the Duchess of Sussex is planning a royal baby with a difference. To judge from some of the hysterical headlines you might think @sussexroyal had Instagrammed their birth plan (they haven't and nor should you) but we do know it's an HRH arrival with a difference: no press call with an hours-old baby, a female team in place of the Queen's eminent male obstetricians, rumours of a home birth in Windsor, and the couple are reportedly practicing hypnobirthing techniques. "Harry and Meghan are 'hypno' what?"
Hypnobirthing has nothing to do with hypnotising each other. The hypno part is about the woman putting an effective kind of spell on herself – through her environment, music, scents, yoga breathing and relaxation techniques. Your job is to help not hinder and to get on board with whatever your partner has decided. My husband had never done a sun salutation in his life but spent a day in a yoga studio learning basic breath work and active birth, and to my astonishment put his lawyer's photographic memory to use remembering the visualisation techniques. So as Harry steps up, how can you be the perfect supportive woke birth partner? Here's GQ's guide:
Meghan's love of yoga is well known, her mother Dora is a qualified yoga teacher and so it's no surprise she's all about female-led active birth. In order to give birth, a woman needs to release a hormone called oxytocin. The presence of a man (whether a top doctor or even you) can slow down this release and hence make labour longer. So do be accepting if your partner opts for her sister/mother/friend or wants them there as well.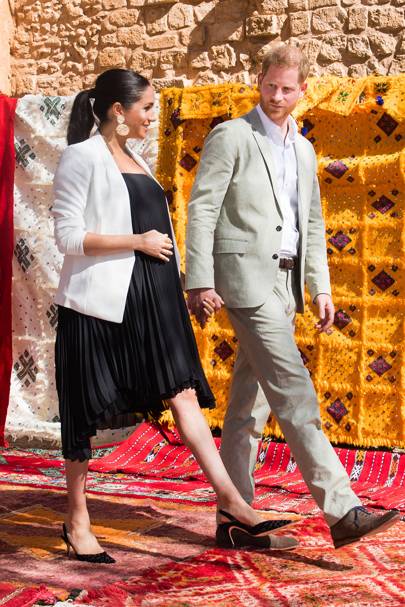 If your partner is about affirmations, active birth and yoga breathing, learn the techniques so that you are speaking the same language. DO learn some supposedly pain-relieving massage techniques but don't be offended if in the moment they elicit a "don't touch me" rather than an "mmm, thank you darling".
DO be supportive, DON'T be zealous. No one wants to be with the guy who says, "We are hypnobirthing." Maybe you are, but "pain is a social contruct" only for as long as she says that that's what's happening. (Having a wish for your baby to be brought in the world drug-free is not a thing, until there's some science to let men give birth when, of course, it will be their call on how it should all go...)
DON'T say, "I'm going to kill this woman with her golden light and rainbow fish," when you hear the hypnobirthing tracks for the millionth time. Listened to upwards of 25 times, these relaxation CDs or downloads genuinely work, and when it starts playing in the hospital you may well be pleasantly surprised and find yourself pleased to hear it too.
DO learn more on a reputable one-day course. GQ recommends pioneer in the field Lolly Stirk, who teaches pregnancy yoga at Tryoga and is also brilliant with fathers to be. Her students have included Emma Freud and your correspondent.
DO be an advocate – you need to know exactly what her ideal scenario and worst nightmare is without having to check. However it went, no birth is "easy" (even if she made it look that way). DO say she was a marathon runner, a goddess, amazing. Never miss an opportunity to say so, and some of the more memorable details can happily stay between you forever.
DO encourage organised bag packing – a beautifully packed bag by the door even weeks early might seem a scary sight, but in fact it's the opposite. You can both stop panicking about, "What if the baby comes?" in the night. If there's never a good time to say, "Are we really taking all that?" then this is the worst. You're taking it. Also, learn what's in the bag and where. Clear plastic wash bags like you might use for a flight are great – a dilating woman in need of her lip balm or a hair tie or a mother trying to get dressed for the first time post-baby is no place for a man-search.
DO expect some noise and swearing in with the yoga breaths and visualisations – your baby's arrival in to the world will be the greatest moment of your life to date irrespective if you were told to f*** off five minutes before. In the movie of your life this is life's greatest scene: history and memory will forget the details of the dialogue.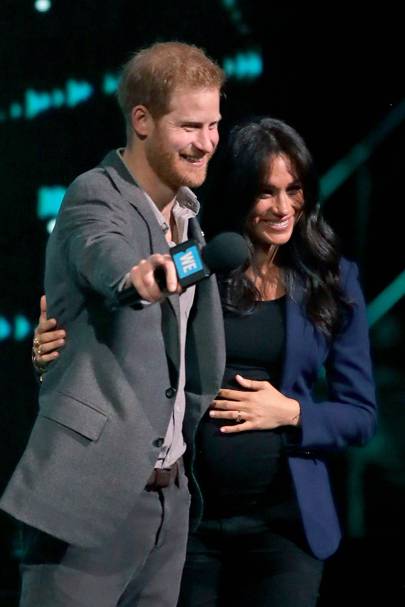 DON'T scoff at the power of aromatherapy, alternative pain relief, reflexology and all happy-making products/sleep masks/essential oils even if you privately have no time for this. Harry and Meghan were spotted shopping at "beyond" organic brand Ila. Founded by former midwife Denise Leicester, their products are potent and mood-enhancing and some contain Rose Damascene oil which can even be said to help labour. The final weeks of pregnancy are quite alarming – some uplifting oil can go a long way… likewise, a pregnancy massage.
DO limit what's going on on your phone. The internet doesn't need to know that she's had her first contraction – your phone blowing up with requests for updates will be infuriating, particularly in a long labour. Make a WhatsApp group so you can send one message to anyone she does want in the loop. Who is on the group is her call (no debate).
If birth is private so are the first hours and days of family life. DON'T circulate or broadcast random photographs or stress your partner out with updates of who is asking for a photograph. Until recently this creature was attached to her body – she will take a photograph and share a photograph when she feels ready. No one wants to be there via Insta Stories. Likewise, the name you thought you loved might no longer seem right. There's no hurry.
And finally, whether it was relatively drama-free, or with unexpected moments of trauma for you both, once you're home, do pull up the drawbridge. There hasn't been a royal baby without a Paddington press call in decades but Meghan and Harry have taken "a personal decision to keep the plans around the arrival of their baby private. The Duke and Duchess look forward to sharing the exciting news with everyone once they have had an opportunity to celebrate privately as a new family."
Perhaps their view that the world can quite literally wait comes from reading a viral piece on the "drawbridge" – you don't have to have a castle to get on board with this, your partner will thank you, and be astonished if you produce it as your plan for those precious but slightly fragile first days. The takeaway is that the job is to discreetly cancel everything and everyone. Congratulations… you have the best excuse in the world who needs you both for as long as it takes, and everyone will understand.